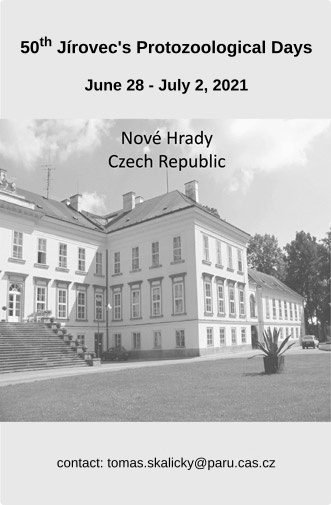 About
We would like to invite you to participate in the 47th Jírovec's Protozoological Days taking place in Nové Hrady, Czech Republic, April 24 -28 2017. The meeting is organized by Biological centre CAS,  by Protozoological section of Czech society for Parasitology, and by Faculty of Science University of South Bohemia in České Budějovice. The Conference Centre is situated in the historical building of the Nové Hrady château in South Bohemia, built in the Empire style and provides all needs of international conference.
47th Jírovec's Protozoological Days is conference with long tradition organized since 1969. This conference is primary focused to presentation of novel works of pregraduated students, Ph.D. students, post docs,  and young scientist. Every year number of participants rises as the popularity does. The rich program of 47th Jírovec's Protozoological Days includes lectures in various sections like: Molecular Biology of Protozoa, Biodiversity, Phylogeny and Systematic of Protozoa and Protist Cell Biology and Biochemistry. Furthermore the conference program covers Poster session and Workshop: Demonstration of the protozoans.
The organizing committee:
Aleš Tomčala, Ivana Schneedorferová, and Petr Soukal.
We hope that everybody will enjoy a pleasant and productive time in Nové Hrady
Aleš Tomčala